Hunterdon Heart Care Program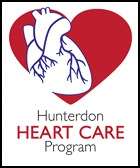 Our Vision – to be a valuable resource for patients with heart failure or cardiomyopathy, their families, and the community
Our Goal – to enhance quality of life and improve patient outcomes by
Reducing hospitalizations
Enhancing education and knowledge
Providing close monitoring tailored to patient needs
Increasing access to care
Advantages of the Heart Care Program
-Evaluation and Treatment of Heart Failure utilizing a multidisciplinary approach
Nurses
Nurse Practitioners/Physician Assistants
Cardiologists
Pharmacist
Palliative Care Team
-We educate our patients to actively participate in their health care, by monitoring closely for worsening heart failure symptoms. If this occurs, we encourage our patients to reach out to the heart failure team for early treatment to prevent hospitalization and emergency room visits.
Same day office evaluation
In-office administration of medications; if fluid retention occurs
If you have been told that you have Heart Failure, you are not alone. You are among 6 million Americans that have this chronic disease.
Heart failure does not mean your heart has stopped or that you had a heart attack. Heart failure means that the heart is not pumping blood as well as it used to or with as much blood as the body needs. In the beginning you may not feel any symptoms. However, with time you may start to feel tired, short of breath, or develop swelling in your legs or feet.
While there is no cure for heart failure, treatment can slow the disease and help you feel better. With proper care, the right medications and lifestyle changes, you can live a long and productive life.
What is Heart Failure?
Heart Failure occurs when the heart muscle is not strong enough to pump blood to the body or when the heart has to work harder to overcome high pressures in the lungs or chronically high blood pressures. Sometimes heart failure may improve with medicine. New treatments have made it possible to slow disease progression and help people live longer.
What is Cardiomyopathy?
Cardiomyopathy is a disease of the heart muscle in which it becomes thick, stiff, enlarged, or weak, thus potentially leading to heart failure.
Some common causes of heart failure are:
Coronary artery disease
High blood pressure (hypertension)
Abnormal heart valves
Disease of the heart muscle (cardiomyopathy)
Abnormal heart rhythm
Thyroid disease
Alcohol misuse
Pregnancy
Infections
Other Factors that can lead to heart failure include:
Diabetes
Drug abuse
Obesity
Pulmonary hypertension
Smoking
Lung Disease
Sleep apnea
Signs and Symptoms of Heart Failure
Shortness of breath
Swelling/bloating
Weight gain
Feeling tired or weak
Dry cough
Chest pain
Nausea or loss of appetite
Advantages of the Hunterdon Heart Care Program:
Access to support via phone and intra-office evaluations
Early detection of symptoms, which often can reduce hospitalizations and emergency room visits
Education regarding how dietary modifications and the use of certain medications can improve quality of life
Intra-office administration of IV medications, if necessary, for symptom relief
Evaluation and treatment utilizing a multidisciplinary approach
Lifestyle Changes
Manage your disease by learning to take care of your health. By changing your lifestyle you can take control of your disease, so the symptoms of the disease do not control you!
1. Monitor Daily Weights
Weigh yourself every morning as soon as you get out of bed and use the bathroom, but before you eat or dress. A sudden weight gain can mean more fluid is building up in your body and your heart failure is getting worse. Call your healthcare provider if you gain 2-3 pounds overnight or 5 pounds in a week.
2. Follow a low sodium diet.
Suggestions for lowering the salt in your diet
Remove the salt shaker from the table (one teaspoon of table salt has 2,300 mg of sodium)
Do not use salt when cooking food
Use spices, herbs & other seasonings to flavor food
Eat fresh and frozen vegetables (instead of canned vegetables)
Eat fresh fish, poultry and meat (instead of processed or canned meats)
Snack on fresh fruits and vegetables.
(instead of salty snack foods such as pretzels, chips or popcorn)
Avoid fast food restaurants
3. Medications
A combination of medications are very important for keeping you feeling well and controlling the disease. Medications can:
Improve the pumping action of your heart
Remove excess fluid from your body
Help you live longer
Make you feel better
Increase energy levels
Help you stay out of the hospital
It is important to take your medications as directed. Stopping or missing doses of medications can stress out your heart and cause fluid to build up. This can lead to hospitalization.
---
Heart Care Team:

Yaser Elnahar MD, FACC
Jonathan Horiuchi, MD, FACC
Rupen Parikh, MD, FACC
Jonathan Rhoads, PA-C, MHS, FAAPA, AACC
Lisa Davis, MSN, RN, FNP-BC, CHFN
Fred Banerman, PA-C
Tracey Czarnecki, RN
Pat Wirasnik, LPN
Kate Smith, LPN
Meredith Dudley
To enroll, or for questions please call us at 908-788-1710 x 211
Guidelines for how to have advance care planning conversations
Guidelines on topics to discuss when talking to others about their advance care wishes
Creators of "Five Wishes"
The National Institute on Aging presents a comprehensive and educational guide in layman's terms for advance care planning
Hunterdon County Advance Care Planning Hotline:
908-788-2573
Schedule A Consultation
To learn more about our Heart Care Program for Heart Failure, contact us at (908)-788-1710 x 211 for more information.